Waikiki Beach Activities is Hilton Hawaiian Village Hotel's Beach service, providing beach activity rental equipment, packages and coordination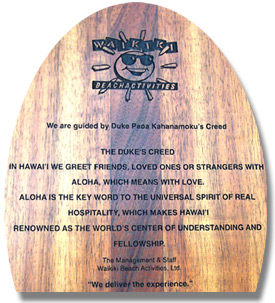 Visitors keep returning to Hawaii year after year, even when they live six thousand miles, and a 12 hour flight away. Even when their home is in a beach resort like Hawaii
Most return guests tell us that they have returned to the Village to once again experience "Hawaii's Aloha Spirit." For a recent example, there is Col. Harwig and his wife, Lee, who have returned to the Village again and again. In fact, this year was their 21st return stay in the Village.
In Col. Harwig's thank you letter to the hotel, he told us that although the beaches and weather are wonderful in his home town of Tampa Florida, the Aloha Spirit that they experience in Hawaii is unique. Col. Harwig writes; "I always tell people that ask us why we go to Hawaii to spend our vacation when we live in Florida with all its great weather, beaches and entertainment. Our answer has always been the Hilton Hawaiian Village and the wonderful staff that makes our vacation the best we could ever hope for."
This is not the first time the Harwig's have told us about Hawaii's Aloha Spirit. They tell us every year. In fact, after their 15th trip to the Village in 1999 they were so happy that they sent a letter which was mentioned in a 1999 Waikiki News story.
Where do return visitors find the Aloha Spirit during their vacation in Hawaii? Again lets have the Harwig's tell us the answer. They credit their hotel "maid who met our every needs with courtesy and a smile. She is hard working and very courteous." Another source is the valet, "he is a hard worker and certainly always extends the "Aloha Spirit" to all of your guests." The Harwig's credit the front desk manager, the parking lot manager and they give special thanks for the beach boys as the Harwig's spend most of their time on Duke Kahanamoku Beach.
The Harwig's tell us they are now looking forward to their 22nd vacation at the Village.
Every return guest has their own special praise for one of Hawaii's Ambassadors of Aloha, It's not unusual for a return guest after arriving at the hotel and checking in at the desk, to first visit the beach, the concierge and the garage to see how everyone is doing before going to their
room.
When you stay at the Village you will see first hand why we are the Ambassadors of Aloha.
Aloha,
Bob Hampton
Waikiki Beach Activities
P.S. The June 1999 "Aloha Spirit" story that appeared in the Waikiki News is below
ref no:5372
Featured Product/Service
<!PDF LINK>
<!998Template_start>
<!998Template_end>
---
Please send questions about this website to